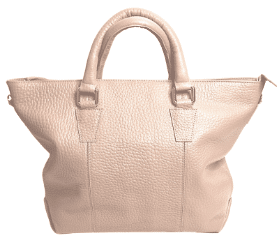 What's All the Fuss About Leather
Fashion will be worthless without stylish leather bags, shoes, and a killer leather wardrobe. Lately, those black leather pants have been a trend that marks elegance.  A number of established designers and fashion houss like Dior, Chanel, Bottega Venetta and Alexander McQueen (to name a few) include a few shirts, dresses and pants each season. Fashion is considered to be the most versatile yet conservative industry of all. Well, I can't agree more – strolling down the street on Rodeo Drive this Holiday weekend, quite a few windows showcased leather attire.  We've mentioned in previous blogs that leather has been around since the beginning and this material continues to show up each year in new colors and designs.
However, the fact is unavoidable that a lot of us are still confused about what leather is and isn't, how to correctly identify different types of leather and when it's appropriate to wear leather.  Let's begin with understanding that leather is derived from various animal skins and has been a widely available and usable material. Leather has been used for hunting, shelter, farming and by the military.  There are, also, certain types synthetic leather – but this is not what this blog is about today!
What are the types of leather –  You ask?
Let's start from the beginning:
While there are many kinds of leather, people are generally curious about what's commonly known as the "Five types of leather".  The difference comes in based on the volume and layers present from the orginal hide or skin that's still present in the finished product (i.e the handbag or the shoe).  Here are the top five grains that are widely used in retail. One of your outfits, handbags or shoes currently in your closet are made from one or more of the following:
Full grain Leather
Top grain Leather
Genuine Leather
Split-grain Leather
Bonded Leather
TYPES
FULL GRAIN LEATHER – this is top of the line leather that may have slight natural imperfections. This is the leather that changes color over time with usage.
Full-grain leather is crafted hose with the outer layer of the hide which hasn't been sanded to remove the imperfections. usually, only the hair is detached on full-grain leathers. The grain normally has thickly packed fiber that is finer; this domino effect in an exterior that is very brawny, durable, and can endure hard use.
Because it undergoes no sanding, the exterior can have slight imperfections. These might be from where, a small cut they might have got, or scrapes from daily life. Full-grain hides with no many blemishes are the majority prized, as they are least common and are the most visually appealing.
Those exterior fibers are also what gives it the most potency of any leather type. This makes it good for saddlery, footwear, and furniture. Since the outer layer isn't detached, it develops a patina (a surface color change from use) over time that can be pleasing to the eye. The outer layer provides some water-resistance qualities as well. Full-Grain is looked upon as the maximum excellent leather accessible.
TOP GRAIN LEATHER – Leather that's been modified in some way (i.e. sanded, buffed, etc.), but very similar to full grain leather.  This is still considered to be high-end leather.
This layer is similar to full-grain, except that the top layer is sanded to remove blemishes. This makes the leather softer and more bendable, with various coloring and finished useful to it.
While this sanding makes it more appealing to eyes, it also gets rid of a lot of the potency and some water-repellent qualities of full grain leather. This we begin to see a tradeoff between leather strength and look and softness.
GENUINE LEATHER – Leather crafted from any layer of the hide.  It's been modified in some way either by sanding or buffing to remove imperfections. Most of your shoes and belts are made from genuine leather
SPLIT GRAIN LEATHER – Better known as Suede; cut from the lower level or the bottom material of the hide.  This type is of leather is very flexible which allows for more color options.
BONDED LEATHER – Leather is made from various leather scraps.  Bonded leather is typically used as filler. These leather scraps are usually tattered and then bonded together using polyurethane or latex forming a fiber mesh.
Exotic Animal leather
There are many types of exotic leathers of rare animal leather that are exquisite, less accessible and more expensive. These are the finest among all leathers. Handbags made of these types of skins are found at more exclusive fashion houses.  At Dani Lin, we make every effort to use sustainable materials during the course of our production cycle.
Alligator, Alpaca, Antelope, Armadillo
Bear, Buffalo, Caiman, Camel
Deer, Dog (although dogs are common pets, their hide is more rate when used as raw material)
Elk, Frog, Giraffe, Hippo
Kangaroo, Moose, Mules, Ostrich
Rabbit, Seal, Shark, Snake
Wallaby, Walrus, Yak, Zebra
 Best Leather used for Making Handbags
Leather is dense and the raw material acts as a protective layer.  It's breathable, conforming, and it could be both stiff and soft/pliable. There's a sensual side of animal skin; nothing compares to the smell of leather.  The beauty of a well-polished pair of leather shoes, great leather jacket, a leather purse, or briefcase. Despite its durability, longevity, and natural beauty, leather products are continuously challenged with new materials in the marketplace. Handbags or jackets made with cloth or PVC (synthetic) leather offers brands the flexibility to create items that are less expensive – even if they are not durable.  In the world of increasing fast fashion, these alternatives have gained popularity either for budget conscious or those who place less emphasis on quality vs. quantity.
Genuine animal skin isn't always high quality. Despite how it sounds, real animal skin isn't high-quality geniune leather. It's a synthetic animal skin grain ironed into the surface. To emulate the natural animal skin look, the surface is sprayed with a stain or dye. It doesn't last as long or looks as nice because of the higher quality grains of animal skin.  Make sure to always ask about the difference when making purchases – particularly in the industry of fast fashion.  Often those handbags or products are made with polyurethane or latex.  The chemical content is indiscernible and many times manufacturers or brands don't reveal the non-organic materials used in the making of their products. A knowledgeable shopper is always one who asks questions and does their research before making a purchase. Artisans have learned that distinction and have become more aware the need to inform their shoppers about their process, the materials used in making their products and use that as a marketing advantage.
Fashion is a statement of who you are and how you want to present yourself to the world. It doesn't matter if you have an eccentric taste or exotic taste. You want a leather jumpsuit or a leather gown, fashion is an expression of personal taste, empowering your voice and how you want the world to see you as you step forward. It's your choice. Leather is exactly like the freedom you crave. It gives you the confidence that you want. Visit us at www.dani-lin.com/shop to find your next favorite item to accessorize  your next outfit as you step out into the world.